FOCUS | ORGANIZE | GROW
You started your business
to make the world a better place.
Some days that feels hard, but
You've Got This!


Helping Focus your Vision, Organize Your Operations, & Grow Your Organization
Greater Columbus Consulting specializes in Social Enterprises, Non-profits that want to Capitalize on their Strengths, and For-profit businesses that are working towards a Higher Purpose
Something is wrong.

Instagram token error.
Specialties include: Strategy, Analysis, Data Visualization, Executive Presentations, Non-profit Administration, E-Commerce, Efficiency, Operational Logistics, Inter-departmental process and communication
I want to help you conquer your pain points & become so confident and self-sufficient that I quickly work myself out of a job! Choose your focus, choose how many 1-hour in-person sessions you can commit to, and let's get started!
Initial consultation is always free. A clear estimate of pricing will be provided before any paid work begins, in order to ensure no surprises or unexpected costs.
Non-profits, B-Corps and other benefit businesses please inquire directly about discounts and pro-bono availability.
5 Mistakes Even the Best Businesses Make
Latest Post
If there were only one book I would recommend to business owners, "The One Thing,The Surprisingly Simple Truth Behind Extraordinary Results" is it.
This book clearly walks through what focus is, why it is important and how to achieve it in practical terms. As a bonus, it's a quick read!
The specific questions laid out in "The One Thing" aren't exactly the ones I've used through the years, but they are good and the entire approach is so similar to what I've found works through the years, that as I read it, it made me wonder if the authors had been inside my office (or mind).
I read it on loan from the Columbus Library, but of course "The One Thing" is also available from Amazon. (I have not been compensated in any way for my review of this book, and those are regular links, not affiliate links)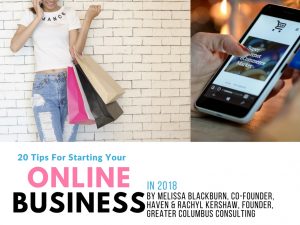 Starting your e-commerce business in 2018? Download this presentation that online payment processing veterans Melissa and Rachyl put together, featuring 20 tips for avoiding many common mistakes made by first time online businesses.  Then set up a time to go through it one-on-one with Rachyl for more detail!