LEVEL THE PLAYING FIELD
Greater Columbus Consulting wants your small company to leverage our decades
of experience at larger companies, including strategy, negotiations, investor acquisition,
boardroom participation and operational logistics.

We believe strongly in good businesses that provide value to their customers
or community and helping them achieve long-term sustainability.
Something is wrong.

Instagram token error.
Specialties include: Strategy, Analysis, Data Visualization, Executive Presentations, Non-profit Administration, E-Commerce, Efficiency, Operational Logistics, Inter-departmental process and communication
Initial consultation is always free. A clear estimate of pricing will be provided before any paid work begins, in order to ensure no surprises or unexpected costs.
Non-profits, B-Corps and other benefit businesses please inquire directly about discounts and pro-bono availability.
Latest Post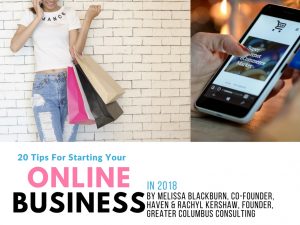 Starting your e-commerce business in 2018? Download this presentation that online payment processing veterans Melissa and Rachyl put together, featuring 20 tips for avoiding many common mistakes made by first time online businesses.  Then set up a time to go through it one-on-one with Rachyl for more detail!
Disclosure & Disclaimer
I am not a lawyer, accountant, or tax expert. All posts on this site are just my experiences and opinions from doing business, and setting up businesses.
Recent Posts